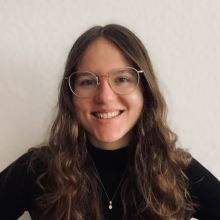 Luisa König
Research Assistent
After completing her Bachelor's degree in 'PPE – Philosophy, Politics and Economics' at Heinrich Heine University Düsseldorf in 2023, Luisa König has been studying for a Master's degree in 'Political Science: Sustainability and Democracy' at the University of Münster. As part of her Bachelor's degree Luisa spent three months at the German Embassy in Wellington, New Zealand as a political trainee. Her main research interest is the climate policy of the European Union and political participation in the context of environmental and sustainability movements.
Gabriele Erwig
Project administrator
Gabriele Erwig provides administrative support of third-party funded projects at the Institute of Political Science at the University of Münster. She completed a commercial vocational training, graduated as a teacher with the 1st state examination and has extensive experience in the private sector and administration.
Anja Köhler
Website developer