During the second week of July of 2021 it took place the 5th International Conference on Public Policy (ICPP5) in Barcelona, Spain, organized by the International on Public Policy Association (IPPA) and the Institut Barcelona d'Estudis Internacionals (IBEI). In this conference, two of the PhD students from the SABio Project, Daniel Kefeli and Guilherme Queiroz do Stein, presented in two panels of it.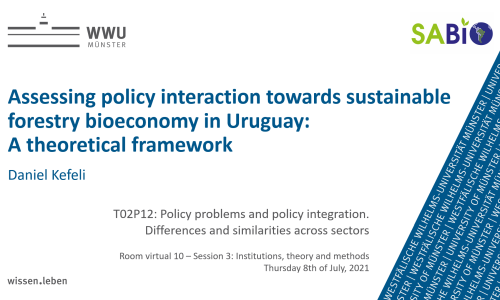 Daniel Kefeli presented at the Panel "Policy problems and policy integration. Differences and similarities across sectors" moderated by Guillermo Cejudo and Philipp Trein. This panel contributed to the literature by analyzing how the process of policymaking and the politics of policy integration differ among policy fields. In the 3rd session, which was focused on "Theory, institutions and Methods", Daniel's presentation was regarding the theoretical framework of his thesis titled "Assessing policy interaction towards sustainable forestry bioeconomy in Uruguay. In the near future is expected to develop a special issue of a jornal based on the papers presented in the panel.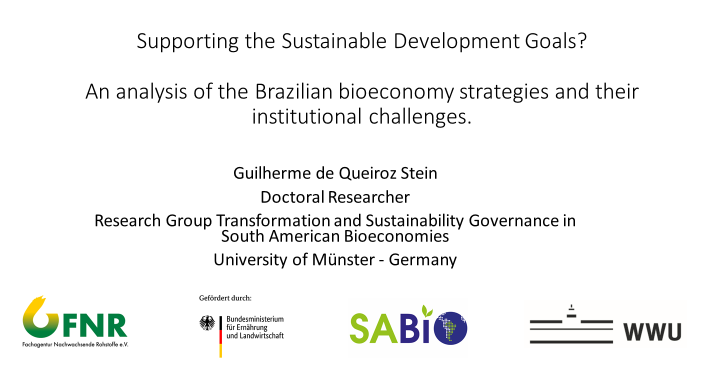 Guilherme de Queiroz Stein participated in the panel "Agenda 2030 and Institutional Change in the Global South", coordinated by Paul Cisneros and Sofia Cordero from the Instituto de Altos Estudios Nacionales (IAEN), Ecuador. On the occasion, Guilherme presented his research on the governance of the bioeconomy in Brazil, focusing on the role of biodiversity in the development of the bioeconomy and on the implementation of the new Brazilian biodiversity law, which regulates bioprospecting activities, access to traditional knowledge and benefits sharing. As a result of the panel, the researchers intend to consolidate a network and jointly produce publications, having as a common theme the institutional challenges to implement the SDGs in the global south.
ICPP5 had 1233 registered participants, 975 virtual and 258 on-site, coming from 78 different countries. It had 155 panels, of which 64 were hybrid and 91 virtual. ICPP5 was 281 sessions divided into 10 multi-sessions of 2 hours with 1527 papers presented.
More information: https://www.ippapublicpolicy.org/conference/icpp5-barcelona-2021/13